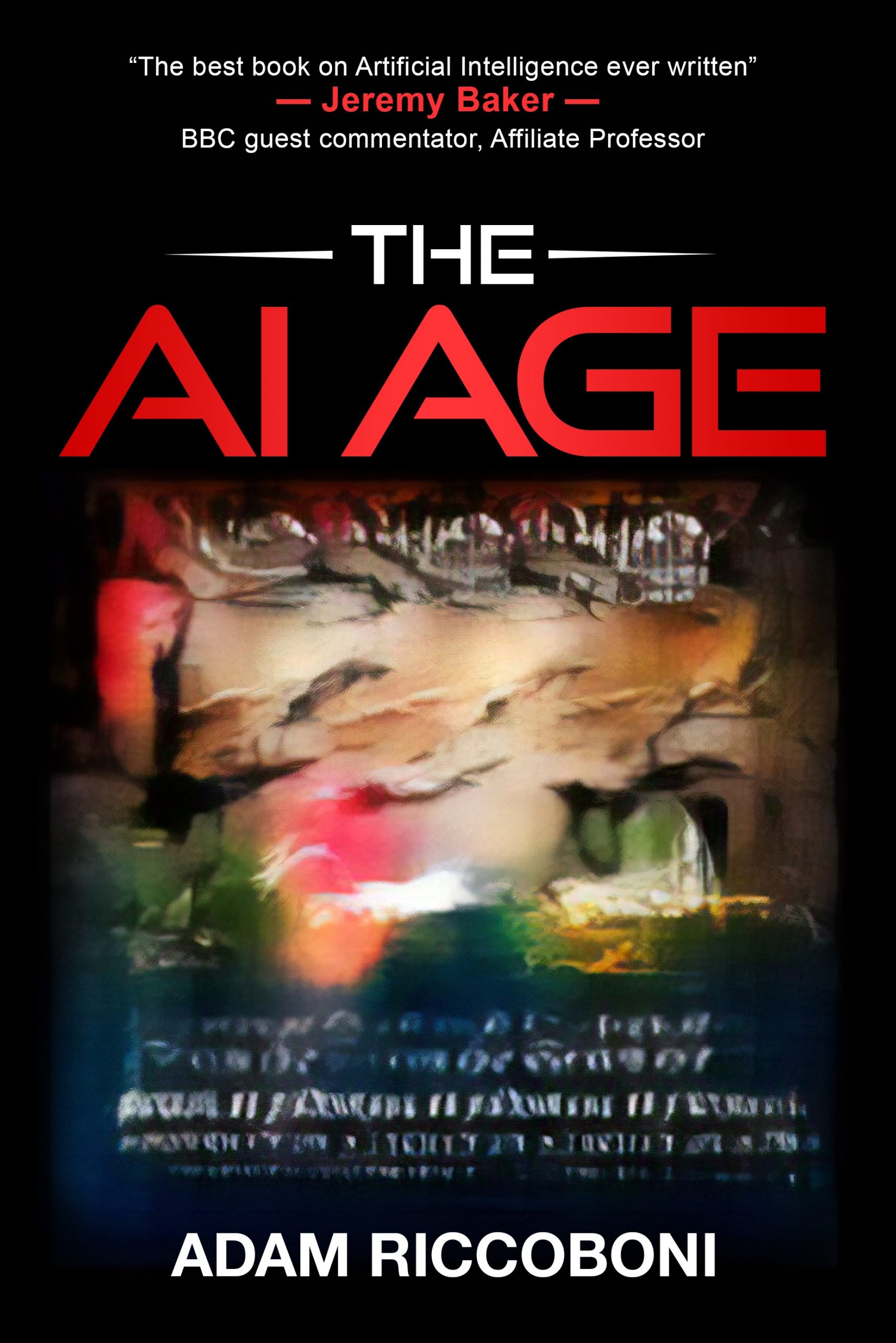 This book represents a world-first. A new landmark in the story of AI. It is the first time ever a book cover has been created by AI.
Book of the Year – The AI Age
With the new year only being just upon us, we would be inclined to reserve judgement to reserve judgement on the book of the year 2020. But the AI Age, by Adam Riccoboni, is such an intriguing, beguiling, and wonderful read, we have decided to go out on a limb and make it our best book of the year. Like a reigning heavyweight champion, ready to take on all comers  .
We have all seen book on AI before. You've read 'em, I've read 'em, even your grandmother has been seen perusing through the latest technology ebooks – NOT!
So what makes this book stand out?
Well it begins with a fascinating history of AI, and a mini-biography of Alan Turing. Most AI book only scim over AI history, and if they do cover it, then it invariably begins with John McCarthy at the Dartmouth Conference. As if Alan Turing had never invented the computer! Given us the imitation game, and insights into AI which are still being applied now! Riccoboni's history of AI captures all this and more, it is magnificent. To understand a thing, you really have to understand it's history, and this history of AI is second to none.
The book moves onto what is AI? A philosophical question, but this is not a book which shies away from such intriguing questions, in favour of boring business jargon. Rather Riccoboni's book rushes headlong into philosophy, history, science, and combines this with business. This is really, what makes this book distinctive.
The third chapter is focused on how AI works? A fascinating peek behind the technical hood, to reveal how machine learning works, how computers speak, and read, and see, and smell and create! Yes we have machines that create now and Riccoboni's book brings that fact to life, by bequething us with the world's first AI created book cover.
The fourth chapter is all about how AI can be applied in business. A framework is provided of how AI fits into every business function; marking, sales, IT, finance etc. This we found very useful, and a tool which you can back to time and again as you dream of how to apply AI to your buisiness.
The fifth chapter answers that massive question – what will AI to do to jobs?
The Author
Adam Riccoboni is an AI entrepreneur, AI lecturer and AI writer. He is the founder and CEO of Critical Future, specialist AI firm, which has developed many pioneering AI technologies from predicting cancer to predicting stock prices. Critical Future is the trusted partner of many of the world's biggest brands.
Mr. Riccoboni is an award winning entrepreneur, and acclaimed business writer, as featured on BBC, the Guardian, The Financial Times, ESPN and USA Today.
ISBN: 978-1513657295
Paperback: 248 pages
Published: First Ed. Jan 19, 2020;
Available in: English
Edition: First Edition
Publisher: Critical Future Ltd
Subscribe to the Mailing List
No spam, ever. Emails are never shared.